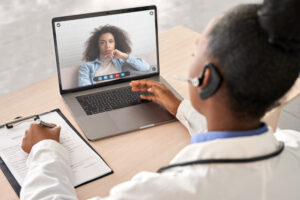 The Importance of Black Mental Health Professionals: Understanding the Unique Needs of Marginalized Communities
While mental health services are vital for everyone, it's important to recognize that marginalized communities face unique challenges that require specialized care. Research has shown that Black individuals are more likely to experience mental health challenges due to systemic racism, discrimination, and intergenerational trauma. Black LGBTQ individuals also face additional stressors and discrimination that can impact their mental health.
By seeking out a Black Mental Health Professional, individuals can access care that is tailored to their specific needs and experiences. At Evolution Counseling Services, LLC we strive to create a safe and supportive space where clients can explore their emotions, thoughts, and behaviors without fear of judgment or discrimination. Our goal is to empower clients to take control of their mental health and well-being and to provide them with the tools they need to navigate life's challenges.
Specific Services We Offer:
LGBTQ Counseling: As Black Mental Health Professionals, our therapists understand the unique challenges that LGBTQ individuals face. We provide a safe and affirming space for clients to explore their identities and work through any mental health challenges they may be experiencing.
Depression and Anxiety Counseling: Depression and anxiety can be debilitating, but with the right support, clients can learn to manage their symptoms and live a fulfilling life. We use evidence-based techniques to help clients address the root causes of their depression and anxiety and develop coping strategies to manage their symptoms.
Trauma and PTSD Counseling: Trauma and PTSD can have a significant impact on an individual's mental health and well-being. Our therapists provide trauma-informed care to help clients process their experiences, reduce their symptoms, and improve their quality of life.
Grief and Loss Counseling: The loss of a loved one can be devastating. EvolCounsel provides compassionate support to help clients navigate the grieving process and develop strategies to cope with their loss.
Self-Esteem and Perfectionism Counseling: Low self-esteem and perfectionism can impact an individual's mental health and relationships. Our professionally trained therapists help clients develop a healthy sense of self-worth and learn to embrace their imperfections.
Stress Management Counseling: Stress is a common experience, but too much stress can lead to burnout and other negative health outcomes. We teach clients techniques for managing their stress and developing healthy coping strategies.
Relationship Counseling: Relationship conflicts can be stressful and challenging. Evolution Counseling Services' therapists work with clients to identify the root causes of their conflicts and develop strategies for improving communication and strengthening their relationships.
Life Challenges Counseling: Life can be unpredictable, and it's not always easy to navigate the ups and downs. We provide support and guidance to help clients navigate life's challenges, and develop the skills they need to thrive.

What Makes EvolCounsel a top Black Mental Health Professional:
Evolution Counseling Services is here to help you get to the root of your issue, without passing judgment. We might talk about the influences of your upbringing, the origins of your most deeply held beliefs, the values you hold and how your decisions support or undermine those values and the times when you put barriers in your path.
Our emotions are often ignored or dismissed in favor of more pressing matters, but our hectic lifestyles make it difficult to give them the attention they deserve. We'll tell you to lean into those feelings without resisting because they can be great teachers if you give them respect and let them go.
It's critical that you feel safe and secure in our relationship so that you can explore openly, fearlessly, and honestly. At the forefront of our efforts is creating a therapeutic environment where you can feel heard and understood. Incorporating measures to ensure this top priority is met is a major part of EvolCounsel's work.
Martha Lopez-Fowler, the founder of EvolCounsel, received her Bachelor's Degree in Psychology at the University of Houston and received her Master's Degree in Counseling at Prairie View A&M University. She also received mental health training at The Harris Center for Mental Health and IDD. Her goal and passion are to use the most effective methods available to address each client's needs.
In conclusion, Black Mental Health Professionals play a crucial role in providing specialized care to marginalized communities. By seeking out Black Mental Health Professionals, individuals can access care that is tailored to their specific needs and experiences. As professional therapists who specialize in LGBTQ, depression, anxiety, trauma and PTSD, grief and loss, self-esteem, perfectionism, stress management, relationship conflicts, and life challenges, Evolution Counseling Services provides compassionate and effective care to all our clients. Contact us today to request and book your online appointment.